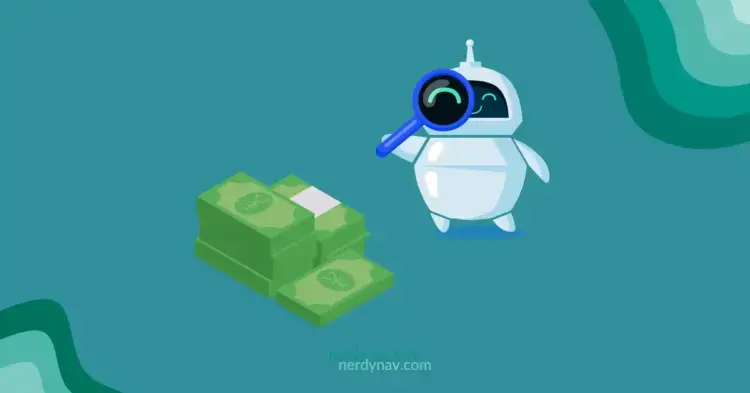 Ready to make money with ChatGPT? You're in the right place! This guide will show you 27 creative and proven ways to monetize ChatGPT.
From e-commerce product descriptions to social media posts and legal documents, ChatGPT can help you generate high-quality content quickly and easily.
But that's not all. We'll also show you how to use ChatGPT to automate customer service, create personalized email campaigns, and even generate scripts for videos and podcasts.
In short, this guide will give you everything you need to know to start making money with ChatGPT today. You will only need to do some final editing and polishing.
Let's dive right into the ChatGPT business ideas. Similar ideas are grouped together and any additional tools needed (if any) are linked right in the description.
By the way, you don't have to be limited to ChatGPT. In my guide to AI business ideas, I have covered AI startup ideas that tap into the emerging generative AI market.
What Are the Best Ways to Make Money With ChatGPT?
1. Create and Sell Online Courses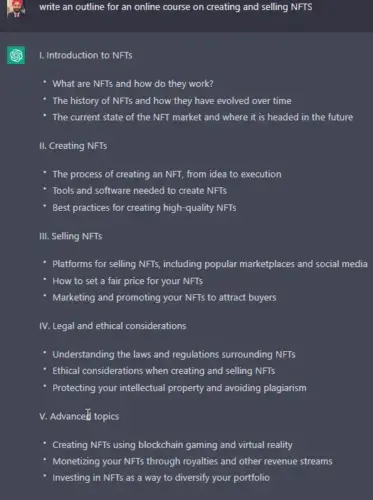 Online courses are a great way to earn money passively. Once the course is made, you only need to small updates to content (if any) over time. There are no physical products involved.
Use ChatGPT to generate topic ideas for your course (you can do preliminary market research on Udemy also).
Ask ChatGPT to create an outline for your course topic. Example: "Create an outline for a course on digital marketing"
Copy and paste individual module outlines in ChatGPT chat and ask it to expand the module content for lectures.
You can also ask ChatGPT to create presentation content for lecture slides, the script for videos, sales copy for selling your course, and more.
My guide on creating a course using ChatGPT goes through the entire process step-by-step with pictures. It also explains the market research part and how to sell your course after creating it.
2. Write a Book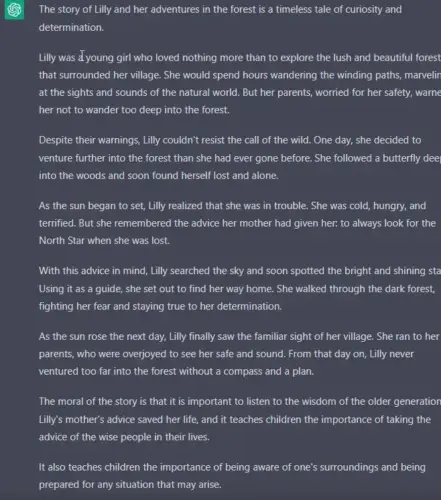 Similar to creating an online course, ChatGPT can also be used to write an original book on the topic of your choice.
For example, you could use ChatGPT to create an AI-generated short story book for children:
I want you to act as a storyteller. Come up with engaging, imaginative, and captivating stories for children. The stories should have a moral lesson and use simple language.

ChatGPT prompt for children's stories
You can also create an ebook on non-fiction topics like stock trading, cryptocurrency, blockchain, NFTs, etc. These are all trendy topics and ChatGPT already does a good job of explaining any topic in simple and understandable language with examples. You can turn its answers into a book.
3. Start a Blog
Blogging is a great way to make money online without a heavy upfront investment. It is also a good way to get organic traffic towards your main business/services.
Bloggers can make $500-1500 per month easily (a realistic target) by:
Affiliate programs
Running ads (Mediavine, Ezoic, Google ads)
Selling their digital products (like online courses) to their email list
For example, you can use chatGPT to start a food and recipe blog but with a twist – instead of sharing single meal recipe like everybody else is doing, target your blog for cooking for large groups of people, like at house warming parties, thanksgiving dinners, etc.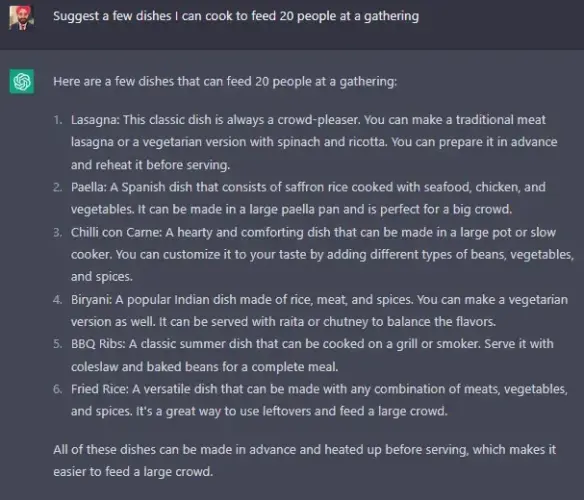 Using ChatGPT, you can not only get recipe ideas for cooking for groups but also precise instructions (in terms of quantity of ingredients needed). Verify and tweak the recipes as needed and you will have a unique food and recipe blog of your own.
4. Content Writing Services
Topic ideas, outline, elaborate using ChatGPT, rewrite in a particular tone
Starting your own affiliate blog is a good way to earn money but it takes time. You also have to take care of web hosting, blog design, and legal disclosures. Often for months before you start seeing results.
If you do not want to wait that long, you can directly sell content writing services to other bloggers and companies in need of writers. With ChatGPT, you can:
Come up with blog ideas
Create blog outline
Write catchy headlines (chatGPT can give you as many blog title ideas you want)
Write punchy introductions and actionable conclusions
By using ChatGPT, you will be write faster and better. This way you can get ahead of all other freelancers who have not kept pace with the changing times.
You can pick up more clients and be profitable even after giving discounted rates to eliminate competition.
5. E-mail Copywriting
You can use chatGPT to write persuasive e-mail marketing campaigns with catchy subject lines and effective call to action buttons.
It can give you multiple ideas for your marketing copy and you can use the best one as is or improve upon it.
Tip: Tell chatGPT a bit about your brand and target audience before asking it to copywrite for you. This will allow the AI to match your brand voice and vision.
6. Faceless Youtube Channel
Have you always wanted to start your own Youtube channel? But are not comfortable showing your face to millions of people?
You can use AI to create a faceless Youtube channel and still succeed as a Youtuber. Such channels are centered around informational content rather than a personality.
Steps to create a faceless youtube channel:
Choose a channel niche/topic (tell it your interests and experience and ask ChatGPT give you ideas)
Ask ChatGPT for video ideas.
Then get it to generate a script for the videos.
Once you have the script, feed it into:
Pictory AI – it's an AI that takes your text script and converts it into a professional-looking Youtube Video using millions of stock video clips, music, etc.
You can also use Synthesia AI – it allows you to create AI avatars that speak your written script (look like real humans but aren't). This is especially useful for creating company training videos, how-tos, product demos, etc. (Sell these services!)
For greater control over editing and stock footage used, you can opt for a video editing tool like VEED.IO. They allow you to create Youtube videos from templates in minutes.
7. Create Your Own AI Social Media Presence
You can create text content for reels, bios, posts, etc using ChatGPT. Create an AI avatar with Synthesia or convert text to video using Pictory and you can create an AI social media handle on any platform with ease.
Such AI run social media pages are on the rise and the creators are making bank even without showing face.
8. Manage Social Media for Others
Copywriting capabilities of ChatGPT can also be used to sell social media SEO services. If you don't want to invest in building your own online presence, help others do it and get paid for it!
Give chatGPT an idea of the brand whose social media you will be managing, feed it same sample posts, and ask it help you create the content strategy, content calendar, even post ideas and content for coming months.
9. Sell Services to Content Creators
Use ChatGPT's scriptwriting capabilities to help Youtubers create videos. Generate catchy text for thumbnails of Youtubers.
Create viral social media captions for Instagrammers and short and sweet tweets for the twitterati.
Influences, youtubers, and bloggers all are in perpetual need of good content to post. With ChatGPT, you can create content for others in a jiffy and earn well in the process.
Your Move
So there you have it. ChatGPT is a game-changing tool for content creation and automation. By utilizing the strategies outlined in this guide, you can leverage the power of ChatGPT to generate high-quality content across a wide range of formats, from product descriptions and social media posts, and start making money now.
Whether you're looking to start a content writing service, or simply want to save time and automate your income, ChatGPT is a valuable asset to have in your toolbox. Remember, always verify the content generated by the model before publishing it, and you'll be well on your way to success. Thanks for reading!