In this article, I have shared the most up-to-date Jasper AI statistics including user numbers, company revenue, and Jasper AI valuation and market share. Let's dive in.
Key Highlights: Jasper AI At a Glance
| Metrics | Details |
| --- | --- |
| User Numbers | 70,000 paying customers |
| Monthly Website Visits | 500,000 |
| User Occupations | Marketers (40%), Content Creators (20%) |
| Gender Distribution | 60% Male, 40% Female |
| Jasper AI Valuation | $1.5 Billion |
| Revenue in 2022 | $80 Million |
| Projected Revenue for 2023 | $245 million, later revised down by 30% |
| Latest Funding | $125 Million |
| Market Share | Approx. 30% |
| Subscription Plans | $49 to $125 per month. Most customers pay an average $80/month. |
| Words Written Using Jasper | 4.5 Billion Words |
| Employees | 200 |
Sources: TechCrunch, NSDRC
User Numbers and Demographics
Who is Using Jasper AI?
Jasper AI has a diverse user base, but the majority of users fall into the age group of 25-34. Here are some key statistics:
70,000 Paying Customers: A significant portion of users find enough value in the platform to become paying customers.
4.5 Billion Words Written: Users have generated a massive amount of content using Jasper AI.
Gender Distribution
60% Male: The majority of users are male.
40% Female: Female users are also a significant part of the community.
User Occupations
What Professions Use Jasper AI the Most?
Marketers (40%): Marketers use Jasper AI for ad copy, email campaigns, and more.
Content Creators (20%): Bloggers and YouTubers use it for scriptwriting and content creation.
Students (15%): For academic writing and research.
Business Owners (10%): For business proposals, reports, and other official documents.
Others (15%): Includes professionals like lawyers, doctors, and more.
Company Background and Funding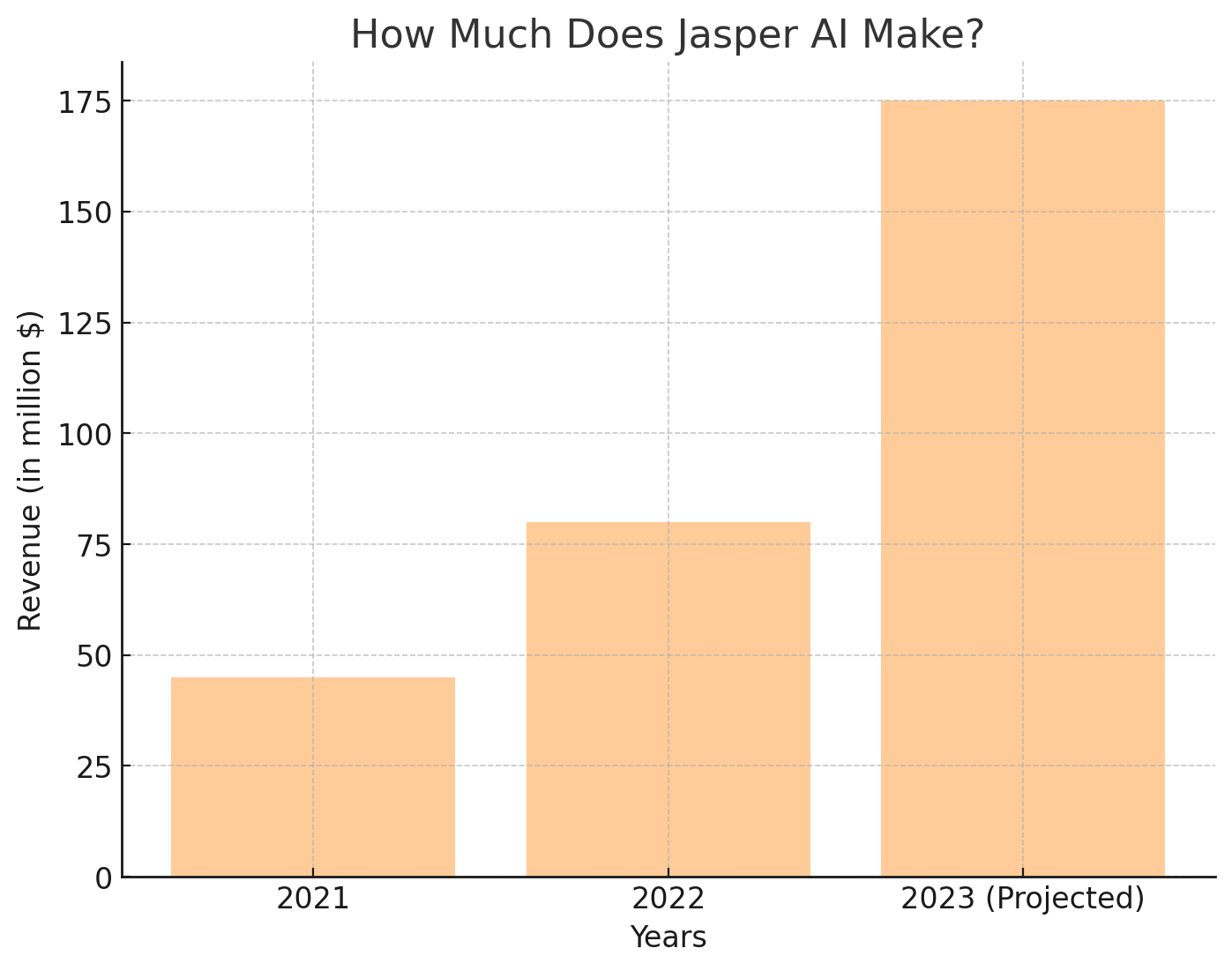 How Much Does Jasper AI Make? (Revenue)
$45 Million in 2021: Jasper's made $45 million dollars in the year 2021
$80 Million in 2022: Jasper AI generated a revenue of $80 million in the last fiscal year, failing to meet their project $140 million ARR by the end of 2022.
Projected Revenue for 2023: In January 2023, Jasper was projected to make $250 million in revenue for the fiscal year 2023. However, late in the summer, the company revised its 2023 ARR forecast down by at least 30%.
Subscription Model: The majority of the revenue comes from their subscription plans, ranging from $29 to $99 per month – with most customers paying $80 per month.
Funding and Investment
$125 Million in Latest Funding Round: Jasper AI recently raised $125 million in its latest Series A funding round.
Total funding of $131 Million: Including the latest round, the company has amassed a total of $131 million in funding.
Valuation at $1.5 Billion: After its latest funding round of $125 million, Jasper AI is valued at a staggering $1.5 billion.
Who Created Jasper AI?
Founded in 2021: Jasper AI was founded in the year 2021 by Chris Hull, J.P. Morgan, and Dave Rogenmose.
Jasper AI CEO: Dave Rogenmose
$1.2 Billion Valuation: The company is valued at $1.2 billion as of 2023.
Series C Funding: They recently raised $200 million in a Series C funding round.
Headquarters: The company is headquartered in San Francisco, USA.
200 Employees: As of 2023, Jasper AI employs around 200 people.
Competitors and Market Share
Who are Jasper AI's Competitors?
ChatGPT: The most popular and advanced general purpose AI chatbot offers a freeplan which is good enough for most use cases.
Sudowrite: A up-and-coming AI story generator that is already taking up significant market share.
Copy.ai: One of the main competitors in the AI copywriting space.
Writesonic: Another significant competitor offering similar services.
ShortlyAI: Known for its user-friendly interface.
Kuki.ai: A newer entry in the market focusing on short-form content.
Jasper AI Writing Marketshare
Jasper AI holds approximately 30% of the market share in the AI writing industry.
Source: Statista, G2
SWOT Analysis
Strengths, Weaknesses, Opportunities, and Threats
Strengths: User-friendly interface, diverse templates, and strong customer support.
Weaknesses: Higher pricing compared to competitors and occasional content repetition.
Opportunities: Expansion into other languages and academic writing tools.
Threats: Increasing competition and advancements in AI technology by competitors.
FAQs
How much is Jasper AI company worth?
Jasper AI is valued at $1.2 billion as of 2023.
How much does Jasper cost?
Jasper AI offers various pricing plans, starting at $29 per month. Source: Jasper AI Pricing
Can Google detect Jasper AI?
The Search Engine Journal reported that Google's algorithms likely could not detect content generated through language models like Jasper as of now. But, it may change in the future. Regardless, Google has already clarified that they will not penalize AI generated content as long it is helpful.
Why is Jasper AI so expensive?
The higher pricing is due to the advanced AI technology and the extensive range of features it offers.
Can Turnitin detect Jasper AI?
Yes, Turnitin has developed technology that can detect AI-generated content, including that from Jasper AI, with claims of up to "98% accuracy". (Source: Turnitin Blog)
Can you make money with Jasper AI?
Yes, you can make money by using Jasper AI for content creation and then monetizing that content. Additionally, Jasper AI has an affiliate program.
Conclusion
Jasper AI is a powerful tool with a growing user base and significant revenue. Whether you're a marketer, a content creator, or someone who just wants to improve their writing, Jasper AI has something to offer. With its advanced features and robust technology, it's a tool worth considering for your writing needs.