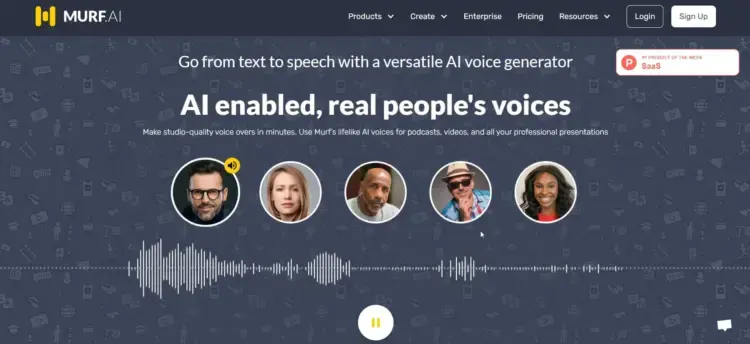 In my Murf AI review, I explore its key features, pros, and cons in-depth with audio samples.
As video creators, we share one frustrating struggle – we pour heart and soul into our content, only to have voiceovers that fail to resonate with the audience.
If you're like me, you've likely tried various options over the years. Voice actors are too expensive. Automated services lack emotion. We end up compromising quality for affordability. But what if you didn't have to choose?
Murf AI is an AI-powered voice generator that claims to offer AI voices matching human expressiveness at a fraction of the price.
Could Murf AI be the voice tool creators on tight budgets have been waiting for?
Let's dive in.
What Is MURF AI?
Murf AI is an AI-voice generator that produces digital voices to provide voiceovers and audio narration for videos, podcasts, presentations and more.
Unlike text-to-speech tools that sound robotic, Murf AI aims to create natural, human-like voices by applying advanced deep learning algorithms and speech synthesis techniques.
It offers creators over 120 voices to choose from based on age, gender and vocal style. Whether you need an energetic voiceover for your latest vlog or a solemn narration for a documentary, Murf AI delivers.
What Makes an AI Voice Generator Good?
Here are my criteria for a good AI voice generator and how Murf fares on them:
Affordability – Digital voices are a fraction of the cost of hiring voice actors.
Realism – Their AI studies human speech to generate natural, expressive vocals.
Range – They offer options for every age, gender, style and dialect.
Control – You direct the AI's voice's-based pitch, emphasis, pronunciations, pauses, speed.
Emotion – Their voices capture the subtle expressions that connect with audiences.
Easy to Use – Murf AI handles the complexity while you focus on your craft.
Murf AI checks all the boxes for me. You direct the performance but the AI handles nuances that multiply costs for human talent. The time saved means more creating.
Murf Voiceover Samples
These samples are of premium voices available in PRO plan and above. It also includes royalty free background music.
Murf has the best African American voices in all AI voice generators I have reviewed. Here's Terrel:
Brianna is mature calming voice.
Clint is suited for documentaries and serious scenes requiring a deep voice.
Rachel is suited for product explainers and YouTube videos.
Samantha is a trustworthy voice suited for trainings and onboarding videos.
Do you like the samples? Try creating some voice-overs with your own text in Murf's free plan.
Key Features of Murf
Murf AI has packed their AI-based voice generator with features that give you creative control and the power to generate customized voiceovers in seconds. Here are some of the top capabilities Murf AI offers:
High Quality Voice Collection
Choose from dozens of digital voices spanning various ages, genders, styles and dialects. There's a voice for every type of content or audience.
Murf also supports multiple emotional tones like Sad, Angry, Calm, and speaking styles like Newscast, Storytelling, Promos, etc.
The feature to change voice style/tone is currently supported by select voices. For the supporting voices, you'll find the dropdown menu next to the Voice menu. Click on it to access all the tones supported by the voices
Customizability
Take control over aspects like pitch, pronunciation, speaking rate and pauses to steer the performance of your selected voice based on your needs. You can even specify a particular accent or happy/upbeat versus solemn/serious tone.
Voice Over Video
Murf AI makes it simple to add compelling voiceovers to your videos that sync perfectly with the on-screen action. Unlike most editing tools, you don't need any technical skills in video production to create seamless voiceovers with Murf AI.
To get started, upload your video or images to the Murf AI Studio. Then enter the script for your voiceover into their text editor. Murf AI offers over 120 digital voices across 20+ languages to choose from. Select a voice that suits your content and audience, whether male or female, young or old.
Murf AI also provides a range of royalty-free background music options to match any video use case or style.
Voice Cloning
Murf AI can also clone voices to generate voiceovers that show emotions like anger, joy, and sadness. Pretty wild, right?
To clone a voice, you need to contact the MURF team. They will ask you your requirements and create a custom voice clone of any professional voice actor of your choice. You will be able to use this cloned voice as many times as you want.
Murf's AI studies how that person talks—their tone, accent, how they say certain words—and uses it to create voiceovers that sound just like them.
Voice Changer
Murf AI lets you instantly re-voice recordings in their own studio. Just upload your audio and they'll generate a "voiceover" version with one of their AI voices.
The process is simple: record your voice however you want—with a script or just freestyling. Don't worry about background noise or messing up. You can edit out anything unwanted, then tap a button and bam—your recording plays back in a different voice.
Murf AI offers over a hundred AI voices to choose from based on age, gender, accent and style. Your recording will sound like a whole new person read it, but the content stays the same.
Seamless Integration
Murf AI supports all standard audio file formats for easy download and integration with your existing video, podcast or presentation workflows.
It also includes an add-on for Google Slides to directly add AI voiceovers to your presentations.
Value for Money
Murf AI's AI voices can deliver natural, professional voiceovers and audio narration at a fraction of the cost of hiring voice actors. Generate only what you need to increase productivity and decrease wasted spends. They do not charge for playing around with voices for the same text.
Pros and Cons
Pros
Easy-to-use web interface that works smoothly.
Multiple emotional tones

Mimic joy, anger, sadness, and more.
Styles like Storytelling, Promos, Newscast

Murf offers the most believable African American voice options of AI voice generators.
Integrates well with Google Slides.
Makes synchronizing voice-over with video a straightforward process.
Cons
Time-consuming to create multi character dialogues.
Video import size limit of 400 MB.
Pricing
Free Plan
Murf AI provides a compelling free plan for testing out their abilities, offering 10 minutes of voice generation and transcription with no credit card required to start. But the output is not downloadable and does not allow commercial usage.
Basic Plan
$19 per user/month ($228 billed annually) offers an ideal entry-level option for casual or short-term use. You get 60 basic voices, 10 languages, commercial rights, and no AI voice changer.
Pro Plan
$26 per user/month ($312 billed annually) is suitable for long-term or larger projects. You get all 120 voices in 20 languages, commercial rights, AI voice changer, and high priority support.
Enterprise Plan
This plan is suited for big businesses and provides access to 5+ users at $99 per user per month (billed yearly). You also get access to onboarding support and training resources to get started, invoicing tools for managing your account and payments efficiently, as well as recovery for accidentally deleted content.
All paid plans include 8000+ soundtracks. Only Pro and Enterprise plan include the highest quality voices offered by Murf.
Going for annual billing saves you 33%. Consider monthly billing if your project is short-term.
For educators, students, non-profits and those hoping to use Murf AI's abilities for purpose over profit, special discounts are available.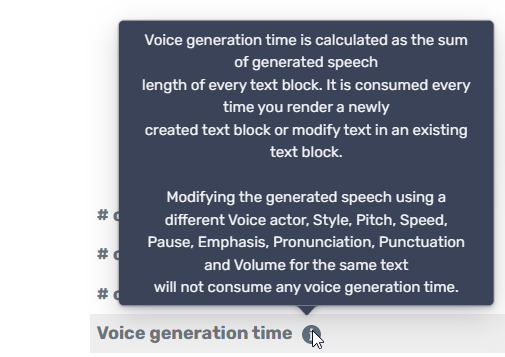 The good thing about their voice generation limit is that playing around with different voices for the same generated text does not consume it. (Details on their pricing page's comparison table)
Who Should Use Murf?
Educators, YouTubers, podcasters, hobbyists—Murf AI suits lots of needs.
Teachers and online course creators can make voiceovers for instructional videos in seconds. Vloggers can re-voice footage to reach more viewers. Audiobooks can be brought to life by multiple AI voice actors. And hobbyists can add a professional touch to personal projects.
Teachers
For educators making online courses or instructional videos, Murf AI lets you generate voiceovers for your content in seconds. Focus on the material, not production quality – Murf will take care of that.
Murf AI provides polished multilingual AI voices to spread your lessons far and wide.
YouTubers And Podcasters
Vloggers, video bloggers and podcast creators can re-voice footage or dub recordings to reach bigger audiences across more languages.
With Murf AI's voice over video, voice changer, and voice cloning, you can optimize audio content without technical hassle. Spend less time editing and more engaging with your viewers.
Audiobook Creators
120 voices in 20 languages make it possible to tell every story in a unique way. Make the characters sound dramatic or portray the sadness and anger in your scenes using voice. AI voices like Samantha are also great at romantic scenes and creating a luxurious ambience.
DIY Enthusiasts
Hobbyists, home video makers and other DIY creators can now generate custom voiceovers for personal projects with a few clicks. Once possible only for big brands, vocal talent and choices are now at your fingertips thanks to Murf AI. Create and share work that means something to you.
Marketing Agencies
Marketing agencies can save money and time spent on hiring voice actors and re-voicing script changes. In an increasingly global marketplace, marketing agencies strive to serve international clients and share messaging across borders. Using Murf's multilingual voices in 20 languages and accents, they can connect with diverse viewers and tailor campaigns to cultural contexts without hassle.
Is Murf.ai Worth It?
Murf AI offers both a large library of high quality voices and ease of use. Murf's voice cloning has excellent fidelity and is the closest thing to an actual voice actor on the market. However, the premium features like Voice Changing are only available through a paid PRO subscription.
The free plan is a good option to test out Murf. Upgrading to Murf PRO is recommended for access to useful tools like AI voice changer and premium voices (they are worth the price).
Frequently Asked Questions
For all questions related to pricing limits or how voice generation limits are consumed, refer the FAQ at the bottom of Murf's official pricing page.
What is the best AI voice generator for YouTube?
Murf AI is the best AI voice generator for YouTube because it has a large library of 120 voices in 20 languages. You can customize pitch, speed, emotion, emphasis, and add voiceovers to videos in Murf's video editing tool. It also includes over 8000 soundtracks and offers custom voice clones.
Can you use Murf AI voices for YouTube?
Murf's paid plans provide users commercial rights to use the AI voices on YouTube or any other platform. AI text-to-speech videos can also be monetized on YouTube if they don't violate YouTube's spam policies and community guidelines.
Does Murf cost money?
Murf has paid plans starting from $19 per month (billed yearly) which allow commercial usage and downloading AI voiceovers. It also has a free plan which gives 10 minutes of AI voice generation per month, but it does not include commercial rights.
Does Murf have a free trial?
Murf has a free plan offering 10 minutes of voice generation/month and access to all 120 voices. It does not allow you to download files. There are no commercial usage rights given with the free plan.
Does Murf integrate with Google Slides?
Yes, Murf has a Google slides add-on for generating AI voiceovers for your presentations.
Murf.ai Alternatives
I have given a quick comparison table of seven popular AI voice generators for you. You can see their features, prices, and best uses. Please read my review of the best AI voice generators for more details.
I think Murf is the best for YouTube and slideshow voice-overs. It has many voices and languages, and you can easily edit videos and add music and sound effects. Here's the full table:
| Feature | MURF | LOVO | Play.ht | Speechify | Voicemaker | Resemble.ai | Descript |
| --- | --- | --- | --- | --- | --- | --- | --- |
| Number of voices | 120+ | 500+ | 907+ | 130+ | 300+ | Voice cloning API | 12+ |
| Number of languages | 20+ | 150+ | 142+ | 30+ | 33+ | Any language with data | 1 (English) |
| Emotions and styles | Yes | Yes, 20 emotional styles | Yes | No | Yes | Yes | No |
| Best for | Video and slideshow voiceovers | Content generation and synthetic speech technologies | Audio-content like podcast or WordPress blogs to audio-blogs. | Audiobooks and personal assistant | Text to speech conversion with natural voices | Voice cloning and analysis with deep learning | Podcasts, videos, transcriptions and editing |
Comparison of top 7 AI voice generators with Murf
LOVO and Play.ht are also worth considering. Besides Murf, they are my favorite AI voice generators.