From voicing story characters to creating multilingual podcasts, the best AI voice generators can give you studio-quality voiceovers at a fraction of the price.
In this article, I've reviewed the best AI voice generators to help choose the right one for your project.
First, here is my #1 pick after testing over 15 different AI voice generators:
BEST OVERALL
MURF.ai
Best collection of voices overall (with the best African-American voices out of all AIs tested). Perfect for Podcasts, e-learning, and ads.
120+ lifelike and non-robotic voices with 20+ different languages and accents. Vary emotion, pitch, speed, emphasis, edit pronunciations, and more.
You can also clone your own voice or swap existing voices with clearer voiceovers.
AI text-to-speech software is helping people to be more productive, create more engaging content, and is making the world more accessible for people with disabilities.
AI voiceover tools help you save time and thousands in voice-over costs by:
Easily experiment with a wide range of voices, languages, and accents.
Immediately re-voice any script changes as many times as needed.
Make your customer support bots sound more natural.
Localize your ads and training videos.
Boost user engagement through voice.
Let's get started with reviews.
What Are the Best AI Voice Generators (TTS)?
Here are my top picks for the best AI Voice Generators:
Best Overall for Creators & Artists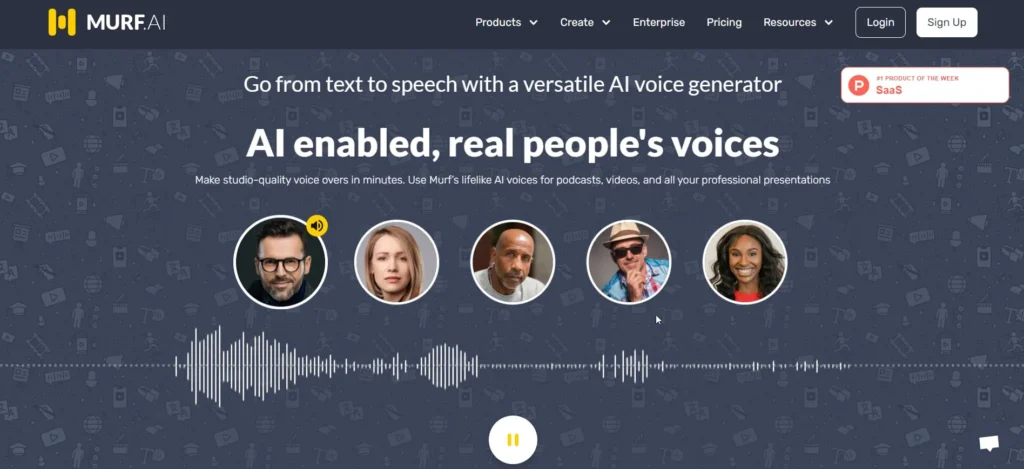 MURF Studio is a complete AI voice solution that you can use to add lifelike voices to your stories, podcasts, audio newsletters, explainer videos, product trainings, and more.
Why I Chose It (Key Features)
With Murf, I was able to do very human-like voiceovers in a matter of minutes. It handled different emotions and accents very well and my friends were not able to tell that the voices were generated by an AI.
Here's my favorite voice Terrel:
Likes
120+ Realistic-sounding human-like voices with options to vary pitch, speed, inflection, tone, emphasis, and more.
Switch voices by gender, country, and language (even within the same paragraph!)
Specify custom pronunciation using International Phonetic Alphabet (IPA notation), and change emphasis word by word.
You can also clone your own voice with MURF
Spectacular emotive range: Make the AI voice sound upbeat, powerful, inspiring, smooth, deep, etc. Mimic joy, anger, sadness, and more.
20+ languages and accents to create natural voice-overs in different languages according to your target audience.
Murf's collection of African-American voices is the best among AI voice generators.
Easy-to-use web interface that works smoothly.
With Voice changer, I could swap my own recorded voice (which had noise) with a professional studio-like voice (crystal clear)
Provides voice-over add-on for Google slides and free music to add in video voice-overs.
Allows direct imports from 100s of sites like Youtube/Vimeo
Dislikes
With the monthly plan, unused minutes don't carry over to the next month.
Sometimes struggles with pronouncing acronyms and inflecting on the end of questions.
What Other Users Are Saying About Murf
Murf is rated 4.6 on G2 (a popular review aggregator).
Most users like Murf for:
being easy to learn and start making voiceovers, simple pricing, and multiple features, not just text-to-speech.
the lifelike AI voices, the voice changer option, and how they can fiddle with each AI narrator further beyond what the Murf team has already designed.
Some users complained:
The intonation can be robotic at times with languages other than English.
There are some glitches with creating monologues vs dialogues.
Pricing
Users can get started with a free plan to try out all the different features of MURF. I liked the fact that it did not require a credit card to sign up for the free plan. Paid plans start at $19 per month, billed annually.
The good thing about their voice generation limit is that playing around with different voices for the same text does not consume it.
My Recommendation
Businesses, content creators, and storytellers can save a lot in voice-over production and revisions by opting for MURF instead of hiring voice-over artists. With its range of emotive AI voices with different languages and accents, I highly recommend Murf for all kinds of voice-over needs.
Get started with Murf.ai for free.
Heads up: Educators, Students, and Non-Profits can get special discounts. First, sign up for the free trial with your official id and then follow the steps here to put in a request.
Best for Large Enterprises, IVR, Ads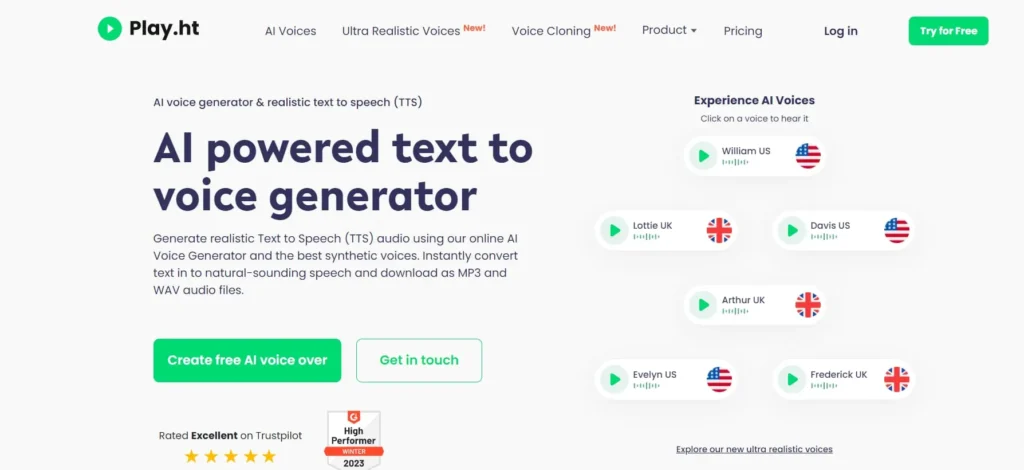 Play.ht is an AI powered text-to-speech generator used and trusted by big companies like Verizon, Samsung, and Hyundai.
Why I Chose It (Key Features)
Likes
907+ AI Voices with 142 languages and accents (including support for multiple vernacular languages for some countries)
Ultra Realistic AI Voices tailor-made to be indistinguishable from humans for specific use cases like audiobooks, e-learning, marketing
Various voice styles like Newscaster, Conversational, Customer Support, and Cheerful.
Accurately pronounces most terminologies and acronyms making it very useful for E-learning.
High-quality voice cloning (check out their cloned samples of Tom Hanks, Joe Rogan, etc)
Can create audio articles using their SEO-optimized audio widget. Also makes your site accessible to those with hearing issues.
Support for Indian state languages like Malayalam, Telugu, etc in addition to Hindi.
Limits are in word counts (not character counts) so easy to track. Limits are also quite generous (the lowest plan gives 240,000 words/year)
Dislikes
Not all AI voices work equally well. At the same time, voices in the ultra-realistic collection are scary good. (On a side note: I personally found Aria to be the best AI voice)
Ultra-realistic voices are only available in the Premium plan and above.
Pricing
Play.ht plans start from USD $14.25 per month (with yearly limit of 250,000 words).
Only the premium plan offers ultra-realistic voices and it's a bit on the costly side. I suggest grabbing it during special offers like new year deals. (50% discount with resulant price of $49.5 per month)
My Recommendation
Play.ht is a voice generation service that is being professionally used for voicing their customer support systems by 7000+ teams and some very large enterprises. If you need AI voice generation at a scale, Play.ht is your best bet.
Best for Beginners
FlexClip is an all-in-one web tool that offers a wide range of features to help you create professional-looking videos. It's extremely easy to use and requires no prior experience in video editing.
With FlexClip, you can easily add text, music, animations, and other effects to your videos. There are plenty of video templates available for all occasions, as well as motion presets and free access to stock footage.
Why I Chose It
Adding voiceovers, subtitles, annotations, highlights, and overlays to your videos is very easy with FlexClip. The best part? The learning curve is very small, making it perfect for beginners.
Likes
Comprehensive editing tools: Trim videos and music, adjust images, add effects and watermarks, and more.
Auto-subtitles and text-to-speech: FlexClip's auto-subtitle feature can generate subtitles for your videos, while the text-to-speech feature allows you to add natural-sounding voiceovers with just a few clicks.
FlexClip's text-to-speech feature offers over 400 human-like voices across 140+ languages.
This feature is fast and free to use, making it an excellent option for adding voiceovers to videos on a budget.
The voices sound incredibly natural and human-like.
Rich Template & Media Library: FlexClip comes with a library of animated text, overlays, logos, intros, and outros that you can use to create eye-catching videos that grab your audience's attention.
Built-in screen and webcam recorder: Whether you want to add footage of yourself or capture what's on your screen, FlexClip makes it easy to record and incorporate videos directly into your projects.
Thousands of royalty-free media resources: With FlexClip, you get access to a vast library of royalty-free images, videos, and music that you can use to enhance your videos.
With its extensive library of media resources, powerful editing tools, and user-friendly interface, FlexClip is a top choice for creating professional-quality videos. FlexClip is already being used by major companies like Google, Dropbox, and Facebook.
Here's a video I made completely with FlexClip:
I already had the script and images for this video but was procrastinating on editing (adding voiceovers, trimming, mixing media, transitions, etc).
With flexClip I was able to finish my video in ~13 minutes of signing up🔥It is that simple to use.
I have used the Jenny AI voice for the voiceover with Speed as 1.5. I did not use the AI substitling feature since Youtube does CC pretty well itself but in other videos I have tried, it also works pretty well.
Dislikes
Flexclip is incredibly easy to use and its features work well but I have one minor gripe. You have to switch tabs to convert subtitles into AI voiceover. You cannot convert them in place. (However, you can record your own voice in place)
Also, the video length is capped at 30-mins which was not an issue for me but could be for some users.
Pricing
My Take
I really liked Flexclip and believe it has the perfect balance of user-friendliness and advanced features.
With its robust editing tools and extensive library of media resources, FlexClip makes it easy to create polished, professional-looking videos that captivate your audience.
Best for Creators Using Their Own Voice
LOVO AI is a budget-friendly text-to-speech software with a generous free plan for personal use (no credit card required).
Why I Chose It (Key Features)
Likes
Very easy to use. Get non-robotic, human-like voices with one click.
180+ voices, 33 languages. Can change speed, intonation, pronunciation, etc.
Clone your own voice with only 15 minutes of audio.
Clean and clutter-free UX.
In-house developed AI voice engine ensures the voices are unique, realistic, and not found in any other tool. (Most other tools are built over Google's Wavenet, Amazon's Polly, etc, and sound similar)
Option to add background music right from Lovo Studio.
A generous free plan + good discounts for personal use and freelancers so it's a budget-friendly option.
API to create and offer your own software offerings built over Lovo's engine (requires resell rights).
Dislikes
They have a history of deleting AI voices from their catalog which can be inconvenient if you plan to choose and stick with a single voice for all your projects.
Pricing
LOVO is completely free to get started with and offers extremely affordable paid plans starting at $17.49 per month. (30 downloads/month of up to 15,000 chars each)
My Recommendation
I recommend the free plan of LOVO for hobbyists who want to clone their own voice for making videos without buying costly tools.
Freelancers will also definitely benefit from LOVOs commercial plans as they get 100 downloads/mo and super realistic premium voices.
Best for Bloggers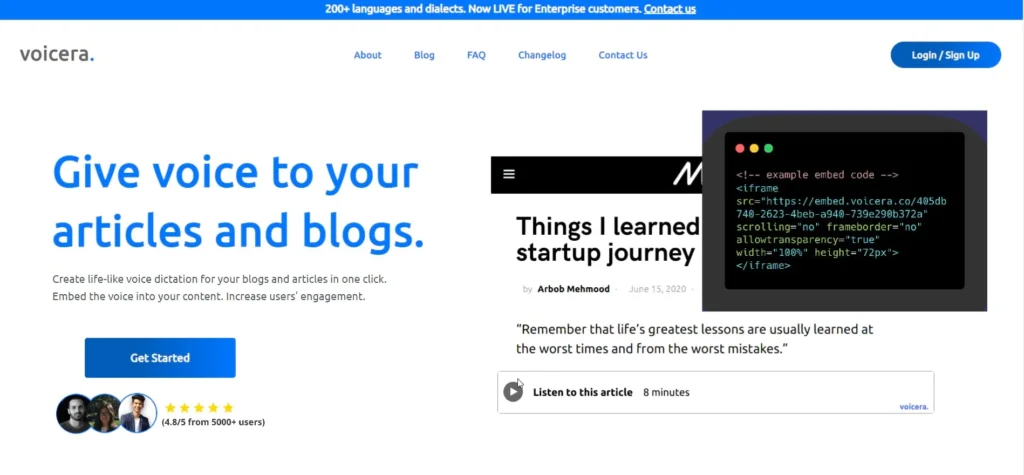 Voicera is a natural-sounding text-to-speech tool to help bloggers create audio articles and blogs.
When it comes to reading on the web, people like to listen > scan > read fully.
Voicera audio articles increase user engagement and help visitors to stay longer on your blog (boosting SEO). It also helps with accessibility for people with vision issues.

Why I Chose It (Key Features)
Voicera allows bloggers to easily integrate read-aloud features into their blogs enhancing UX, SEO, and inclusiveness.
Likes
200+ languages. Varied choices by gender and age.
Ability to change voice speed.
User-friendly dashboard. Just input the article link, choose a voice, and the audio embed is created in seconds.
Easy to embed iframe HTML code.
Supports WordPress, Ghost, and any other sites allowing users to insert HTML snippets.
Voicing credits don't expire. Can also be topped up.
Useful for improving user engagement metrics.
Dislikes
Requires support for HTML code embeds. Thus, it is not available on Medium and Substack.
Pricing
Voicera starts at $29 for 200,000 credits where 1 credit = 1 word. These credits don't expire with time.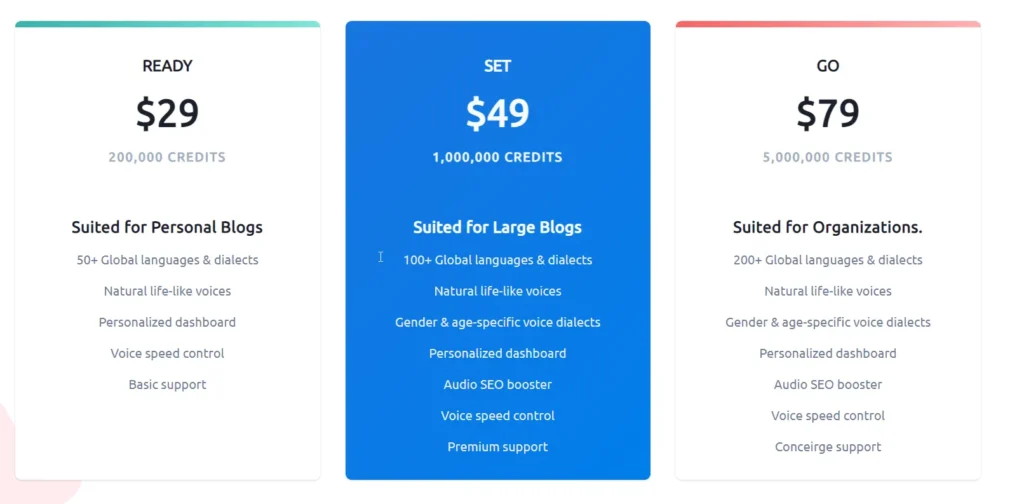 My Recommendation
I recommend Voicera for bloggers, news websites, or any website with long-form content. Company blogs will also greatly benefit from the improved audio SEO and accessibility provided by Voicera's audio articles.
Best for Animators (Characters + Voice)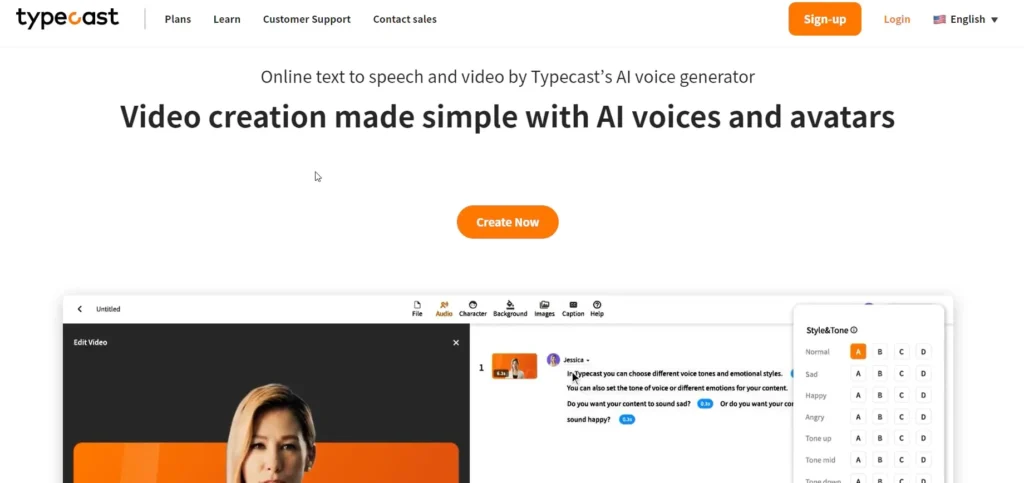 Typecast.ai provides realistic voice actors (virtual characters + text-to-speech.
Why I Chose It (Key Features)
Typecast is incredibly useful to create any kind of animated video which requires natural voice-overs and synthetic human characters.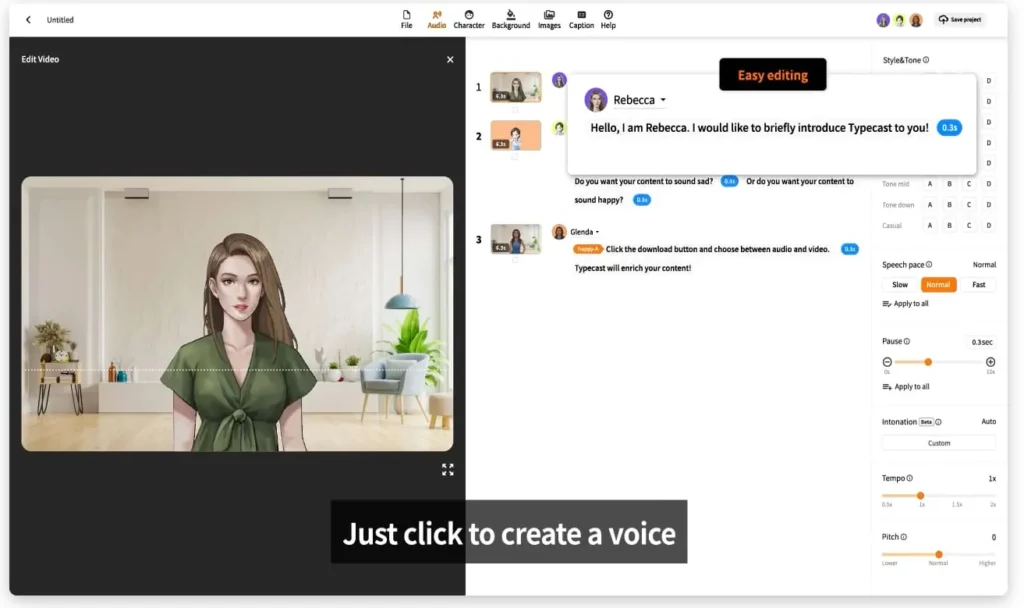 Likes
300+ realistic voices.
Choose a human or animated character.
Large selection of characters. Can also vary character background.
Easy to use video editor with minimal/no need of post processing.
Control pitch, emotion, tempo, etc.
Import pdf, epub, excel, and ppt to convert to voice.
Helpful templates for edu videos, documentaries, audiobooks, etc to get you started.
Dislikes
The subtitling/transcript feature is slow and buggy.
The free version provides only 3 minutes of download time.
Pricing
The paid plans of Typecast start from $7.99 but most serious users will need the Pro plan (for $35.99/mo) as it is the one with detailed speech control.
My Recommendation
I suggest Typecast for content creators who need AI characters as well as a text to speech.
Best for Listening
Speechify is a text-to-speech software that increases your productivity by reading your ebooks, PDFs, articles, etc to you in a natural-sounding voice. It also provides impressive voice-over generation capabilities.
Why I Chose It (Key Features)
Speechify is great for all kinds of reading-aloud tasks you throw at it. It helped me go through more books and get more stuff done. Listening to Speechify does not feel boring and the AI voices sound real enough to keep you hooked.
You can also feed it text to generate voice-overs for your own content (free up to 300 chars) but for large-scale voice generation, you will need to get a custom quote from support.
Likes
Incredibly lifelike and natural-sounding text-to-speech capabilities.
30+ natural reading voices and 20+ different languages.
Can vary the reading speed of AI.
Supports multiple apps and platforms (Web, chrome extension, mac, android, iOS, etc)
Listen while you read. Speechify also provides tools to highlight and take notes if you need to.
Scan any text (printed or on-screen) for listening.
Flexible pricing and generous free plan (no limits for TTS, 10 voices) with custom rates for getting a premium plan as a group.
With Speechify Audiobooks, you get 1000s of audiobooks narrated by actors! There are nearly 60,000 audiobooks.
Dislikes
Primarily targeted for reading with TTS. Need to contact sales for voice-over generator for generating more than 300 characters of your own text and downloading as an mp3.
Speechify audiobooks are not part of the premium and have to be purchased separately (or as an add-on in a bundle).
Pricing
My Recommendation
With speechify, every book can become an audiobook, and every blog post a podcast! Speechify makes listening to anything a joy and its note-taking tools and additional natural voices make the premium worth it. The added convenience of chrome extension and mobile apps is just great.
I recommend it to users who are looking for text-to-speech software to read to them. For voice generation capabilities (TTS to downloadable mp3), you will need to contact their customer support and get a quote.
Best for Listening to Articles by URL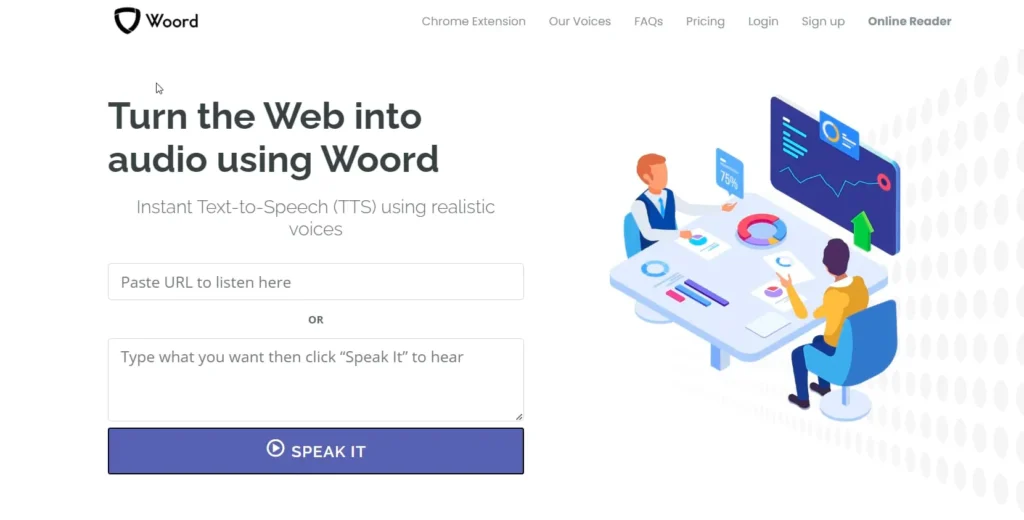 Woord is an online reader which converts text in web articles, blogs, scanned docs, and images to speech.
Why I Chose It (Key Features)
Likes
Supports SSML (Speech Synthesis Markup Language)
Scan photos to convert text to audio (OCR)
Scan docs to convert text to audio (OCR)
Has a chrome extension
Pro plan has no character limit.
Dislikes
Robotic voices
Bare bones UI.
Pricing
The Starter plan costs $9.99 per month and allows commercial use with a generous limit of 100,000 characters. The pro plan has no limit – unlimited audios and characters per month!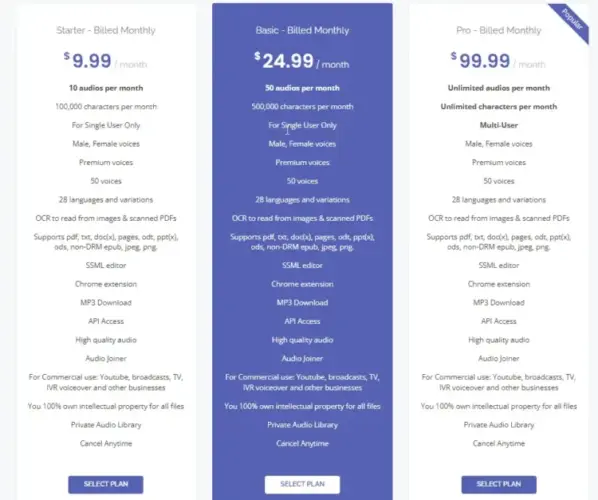 My Recommendation
If you are looking for a simple text-to-speech converter that does the job, provides commercial rights, and is super affordable, woord is the right fit for you.
Best for Students with Learning Disabilities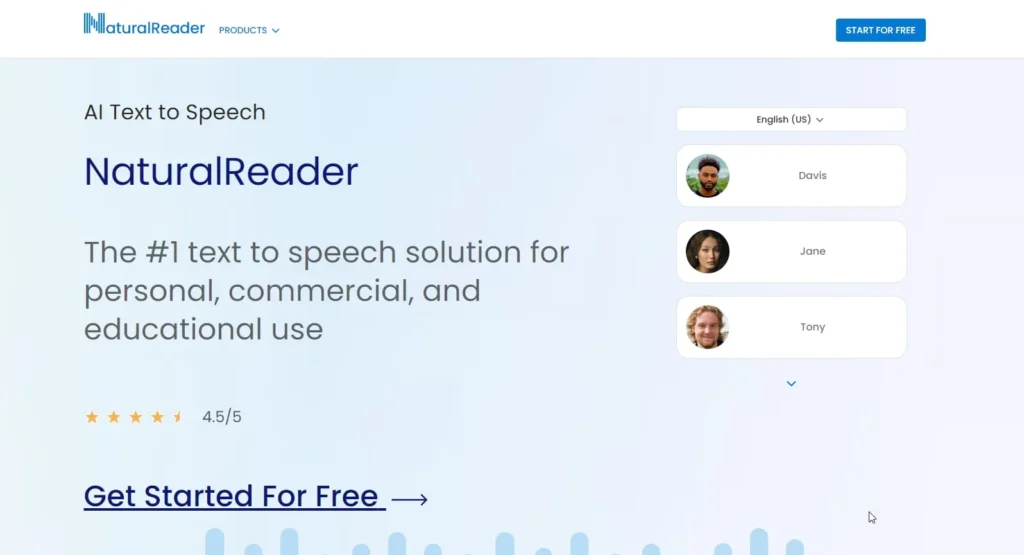 Natural reader is a free text to speech app that reads articles and documents aloud for you. It is especially useful for students with reading and learning disabilities like dyslexia.
Why I Chose It
Natural reader is very easy to use and makes life easier with people with reading issues. Besides listening to material can also help students learn things in novel ways (some people learn better through audio).
Likes
Easy-to-use web app with simple UI
Chrome extension
Different voices
Users can vary the speed of voice
Discounts for education
Dislikes
Voices sound robotic
Needs internet access
The pronunciation editor is not very reliable
Pricing
Natural reader has these pricing plans (paid yearly) for personal use:
Premium Yearly: $59.88/year
Plus Yearly: $110/year
For commerical voiceover, Natural reader gets quite expensive. If you want to use the mp3 for commercial purposes like podcasts, training videos, etc, the pricing is as follows: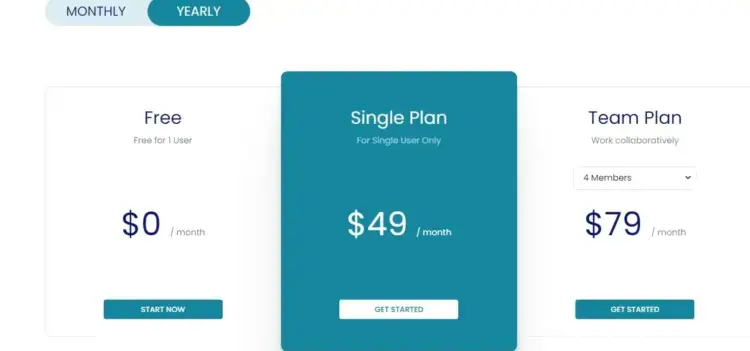 My Take
The free version of Natural Reader is well worth a try. For commercial uses, I find its pricing plans a bit on the higher side.
Best for Small Budget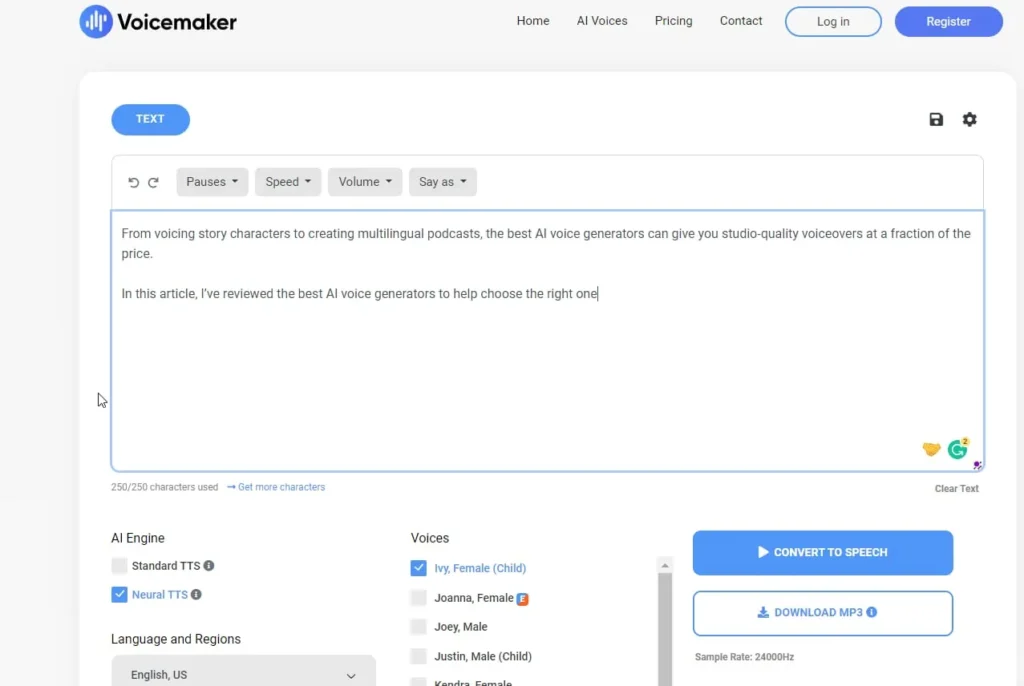 Voicemaker is a versatile text-to-speech converter that gives non-robotic AI voices.
Why I Chose It
Voicemaker supports two AI voice engines – standard (on par or better than most other TTS) and neural TTS (even better quality). It is affordable and it works well.
Likes
Vary pause, speed, volume
Feature to say as date, time, fraction, etc (often mispronounced by other TTS)
SSML support
2 AI engines – standard and neural
Very affordable
Dislikes
Pricing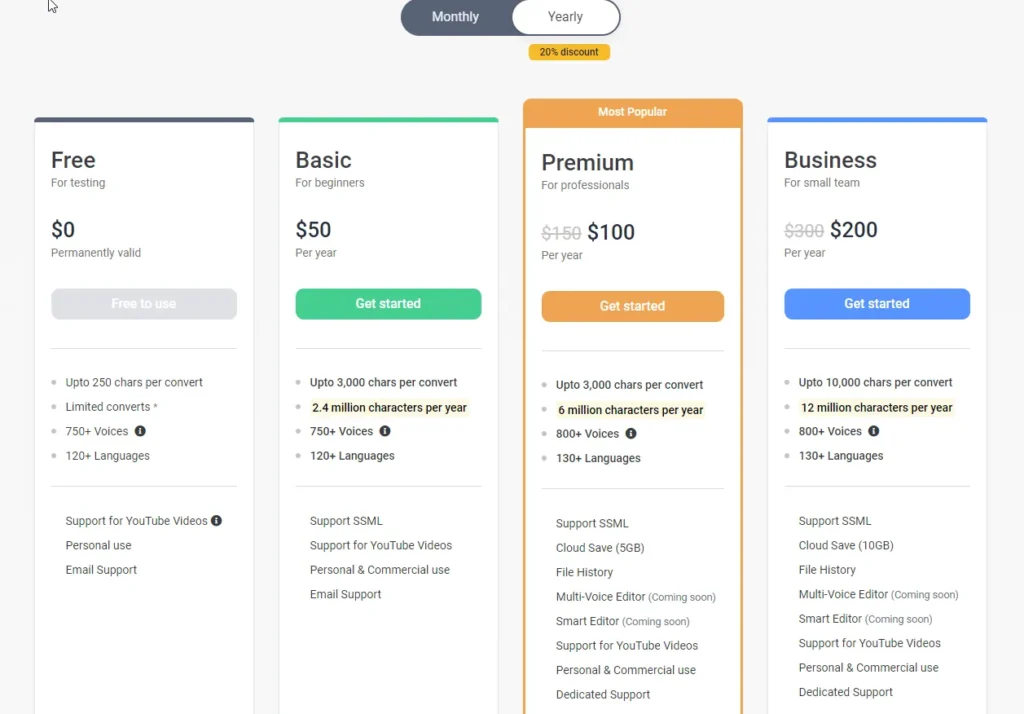 My Take
At only $10/mo or $50 for a year, the value for money with Voicemaker is simply phenomenal. Besides, the free plan is pretty generous to try all its features.
Best for Audio Podcasts
Why I Chose It
Likes
Listnr has a library of over 900 voices in 145+ different languages and dialects.
Voices from Amazon, Google, and Microsoft Azure. No need to buy separate subscriptions.
Add pauses, and change speaking styles and pronunciations. Voices sound natural.
Easily embeddable audio player to turn your articles into audio blogs. Simple to integrate with WordPress.
 Listnr.fm to easily create podcasts and audiobooks from start to finish. 
The UI is intuitive and beginner friendly. Customer support is easy to reach.
Dislikes
Does not offer uncompressed wav for download
Pricing is by words not characters.
Pricing
Individual plans start from 19 USD per month and offer 20,000 words.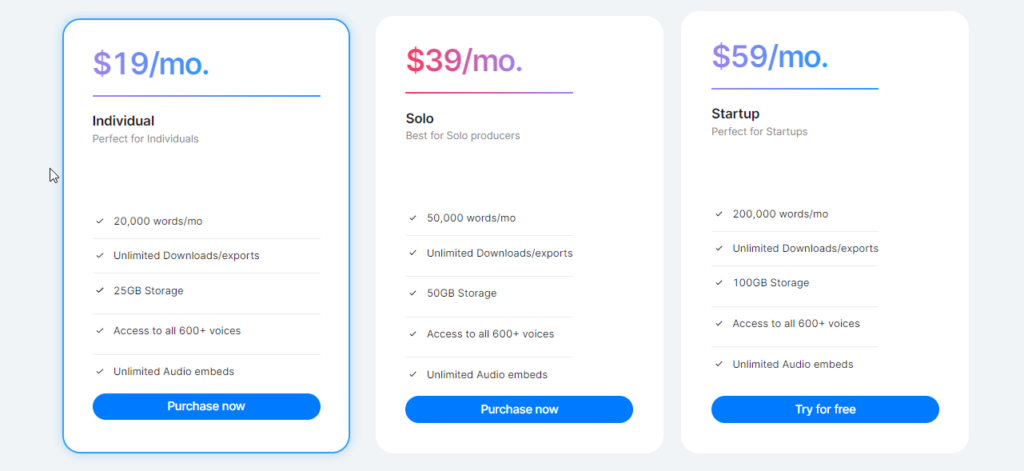 Agency prices start from USD 199 per month which is very expensive.
My Take
Listnr.tech is one of the best-rated Text to Speech tools in 2022, with over 40,000 users using it to create audio content at scale. Most users found it satisfactory. In my tests, the voices sound natural but if you listen closely, you can tell its AI generated voices.
Good for voice cloning
Resemble.ai is an amazing text-to-speech tool that allows you to convert text into speech. It is also a speech-to-speech voice-generation tool.
Why I Chose It
Resemble.ai's competitive advantage is its voice cloning capability, which you can rarely find to work this well in other tools.
You can clone your voice for free with Resemble's AI Voice Generator and create AI voices that sound real with Resemble's Real-Time Speech-to-Speech software.
Here's how it works:
Likes
You can clone your voice with only 3 minutes of audio.
The results of voice cloning sound natural. You can add emotions like happy, sad, angry.
Translate your voice into different languages without providing different data.
You can also swap/convert your voice to a different target voice.
It has a pretty well-documented API for developers.
Dislikes
Less number of AI voices (only 50!)
The pricing model is by seconds (which is hard to estimate from text script)
Pricing
The prices start from $0.006 per second with 10 custom voices + 50 marketplace voices.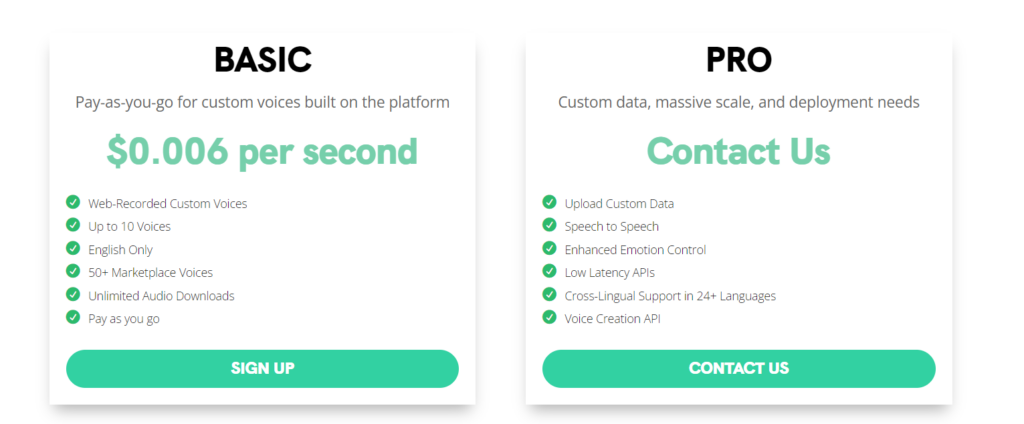 My Take
I would suggest that you first try their free trial. Resemble definitely has its appeal and is liked by its customers, but with its per-second pricing and emphasis on voice cloning, it might not be for everyone.
Best for AI-generated raps
Uberduck is a text-to-speech, ai voice generation company mostly targeted at app developers and large business use cases.
Why I Chose It
I really like their AI-generated rap feature. It may sound gimmicky but it is pretty decent. In fact, a company called Yotta used Uberduck to send personalized raps to over 120,000 customers.
Likes
5,000+ expressive voices
Focus on API and app building
Vibrant ML community of users
Custom voice clones
AI-generated raps
Voices that sound like characters from popular movies like Space Odyssey, Avatar, etc.
Dislikes
Their interface is not very user-friendly.
A large number of voices but most of them are not actually usable.
Pricing
A limited free mode is available. Paid plans start at $96 per year.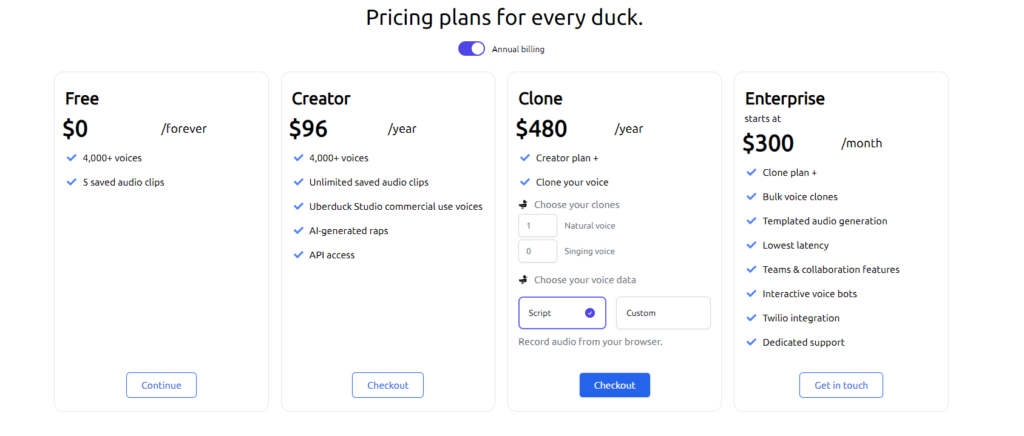 My Take
Generate some AI raps for yourself!
FAQs
What Is an AI Voice Generator?
An AI voice generator is a technology that uses artificial intelligence algorithms to generate human-like speech.
There are typically two approaches to generate speech (voice) from text:
Traditional TTS Synthesis: AI takes the text and turns it into speech by putting together parts of pre-recorded speech. It decides which parts to use based on the text, tone, and other speech elements.
Neural TTS: AI uses deep learning to directly make speech from text. It's trained on many examples of text and speech to produce more natural-sounding speech. Deep learning models provide more natural and human-sounding voice.
Why should I use AI Voice Generator?
AI voice generators offer numerous benefits that can help businesses boost efficiency, save time, and improve customer experience. Here's how:
Virtual Assistants: AI voice generators can be used to create virtual assistants that can handle customer queries, provide product information, and perform various tasks. This can free up valuable time for human employees and allow them to focus on higher-value tasks.
Improved Customer Experience: Communicating using voice provides a more personal experience to customers than text. This can improve customer satisfaction and increase the likelihood of repeat business.
Accessibility: AI voice generators can be used to provide audio output for visually impaired individuals, making websites and applications more accessible.
Cost Savings: AI voice generators can be less expensive than hiring human voice actors, and they can generate speech at scale with consistent quality. Any needed revisions can also be done with ease.
Powerful Storytelling: The best AI voice generators listed here make it possible for small creators and hobbyists to voice a large number of characters in their stories and plays. Without these paid and free ai voice generators, such small creators would not be able to bear the costs of hiring and rehiring human voice actors.
What is the best voice cloner?
AI voice cloning is a technology that uses artificial intelligence to generate a digital copy of a human voice.
The technology involves training the AI on an individual's audio recordings to capture the unique characteristics of their voice, including their tone, pitch, and rhythm, and generate new speech that sounds similar to the original speaker, even when reading new text. Such voice cloners are also called deepfake voice generators as they use deep learning to fake the voice.
As per my tests, Lovo.ai is the best AI voice cloner. It can generate a realistic digital copy of your voice from about 15 minutes of original audio recording.
Readers also ask
Can I create my own AI voice?
Yes, with AI tools like Murf or LOVO, you can create AI voices with varied emotion, pitch, speed, rhythm, etc. You can also clone your own voice (or a famous person's voice, for example) from as little as 15 minutes of original audio recording.
What is the most realistic AI voice generator?
As per my tests and overall reviews on the internet, MURF has the best collection of realistic AI voices.
What is the best ai voice generator for Youtube?
The best ai voice generator for Youtube is Murf.ai. It offers 120+ voices and 20+ languages and accents. You can vary emotion, speed, pitch, and emphasis, etc.
Wrap Up
So there you have it. In this article, I have listed the best AI voice generators and text-to-speech software with their key features, pros, and cons.
When deciding on the best AI voice generator for your business, it's crucial to take into account what you're trying to achieve with it and which features will best align with your specific requirements.
For example, I recommend Murf.ai to most users as it has a flexible and affordable pricing structure with a large number of AI voices. But, if you run a large firm or business and your primary requirement is voices for customer support and automated systems, then Play.ht is the industry-tested solution.
Finally, if you are looking for a text-to-speech tool for listening to books and articles, you may go for Speechify.
AI-powered tools can greatly help you improve your workflows and grow your business. Text-to-speech and voice generation is just one such application. AIs can also be used to write stories, create courses, and even help you develop apps.
I hope you found the AI tools in this article useful for your needs. Thanks for reading.
A newsletter that sparks joy
Get smarter at building your passion project
You will get one (or two if the content is more) well-researched emails every month about writing better, being more productive, and working faster using AI and other curated tools. You can unsubscribe at any time. Click the button to see past newsletters.